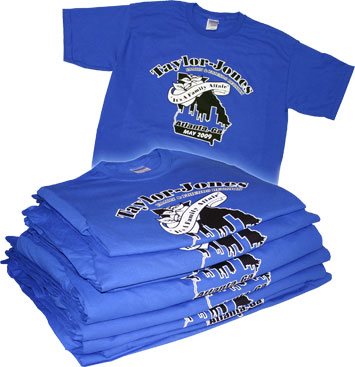 Ah! Spring is in the air and summer time is right around the corner. And so begins Family Reunion Season with most family reunions being held between May and September when the climate is warm and agreeable for outdoor activities. If you're having a Family Reunion during this time of year the chances are good you are going to have custom printed t shirts at the reunion.
After all, custom printed family reunion t-shirts serve as excellent reminders of the event long after the reunion has passed and let's not forget to mention they are an excellent way to identify your party with a quick glance, especially when held in an amusement park or other facility with large crowds of people who are not necessarily part of the family reunion.
Here at Crazy Native T-Shirts Designs, we have been helping family reunions with their family reunion t-shirts and designs for over 20 years and we'd like to share some basic information to make ordering your next family reunion t shirts a snap.
The First thing you might want to consider is What Kind of Shirt & What Color Shirt will best suit your Family Reunion? An important thing to consider when ordering your custom printed tee shirts is that if you are planning outdoor activities, Darker Colored T-Shirts attract the heat. In general it's a good idea to stay with lighter colored shirts and lightweight fabrics in the hotter months of the year.
Another Item you may wish to pay particular attention to is the Design or Artwork for your Family Reunion T-Shirts. What would you like Printed on your shirts? How Many Colors is Your Design? Is Your Design a Photograph? If you're planning on using a family photo - Use a Good Quality Photo if possible. Using photos of the family founders or family members passed is a great idea! A few important things to consider when using photos is that the Finished Screen Printed T-Shirt will only look as good as the original photo, unless photo retouching is done beforehand. The second thing to consider when using photos for your family reunion shirts is that a close up image of 1 or 2 people is better than an image of dozens of people from a past family reunion. Size does matter.
How Many T-Shirts will you need? Bear in mind that this question is for the most part, the determining factor in what your t-shirt pricing will be.
If Possible Order a Few Extra Shirts for exchanging sizes between attendees or for stragglers whom "didn't realize the shirts we're going to look so good."
And Quite Possibly the Most Important Thing to Remember is, Don't Wait Until the Last Minute to Order Your Family Reunion T-Shirts. Spring and Summer are the busiest seasons for many screen print shops, so If possible, always try to allow 2 - 3 weeks for production and delivery of custom printed t-shirts and promotional products. Waiting until the last minute to limits the ability to produce quality artwork or fix any issues that may pop up, such as shipping delays or product availability. Most t-shirt printers offer rush service but in the end customers who wait until the last minute to place their orders generally incur extra stress and end up paying more. Not Fun Happy Times To Be Sure.
Published on May 4th 2009 - Steve Farrow is the President and CEO of Crazy Native Graphic Arts, Inc. - Douglasville, Georgia. A Full Service Graphics Company Specializing in Custom Printed T-Shirts, Signs, Logos and Graphic Design. Other Services Include Promotion Product Sourcing, Eco-Friendly Tye Dyes and Apparel, Fulfillment Programs as well as Pre Printed Apparel Lines. For More Information please visit www.CrazyNative.com