If your in the Market for Promotional Products, Getting the word out quickly and efficiently, that's the general idea. Advertising is a multi-billion dollar business and continues to gain momentum. If you put your message on a billboard, people will read it. Screen Print your message on a T-Shirt, people will see it. And when you get right down to it, they are the same thing... A Promotional Product. A good promotional product can exceed it's advertising value in many ways but a bad promotional product only serves to waste advertising budgets and go unnoticed.

Not Knowing Your Target Audience is a Common Mistake with Advertising and Promotional Products - Targeting promotions to the wrong audience is a flagrant waste of advertising dollars, that's why it's extremely important to know your target clientele. Many factors play a part in determining your intended audience, Age, Gender and Occupation are just a few examples.
Recently we had a client come to us to fulfill her needs for custom printed t-shirts for a school function. A group of 5th graders was graduating to a new school going into the 6th grade and these kids are no doubt excited about moving on up into a higher grade level. They are confident, full of attitude and pride and the design that was chosen for their shirts was targeted at elementary school children not pre teens headed to middle school. We did our absolute best to try to convince her to use a more suitable design aimed at pre-teen kids but we could not and ultimately the sales for her function were disappointing compared to previous years. Knowing Your Target Audience is imperative to the success of your promotion.
A Very Common Mistake We See All Too Often is Choosing Cost Over Quality - I used to tell clients considering using custom printed t-shirts as a promotional product that "no one throws away a free t-shirt" and the truth is that while in some part that's true most people won't wear a cheap or poorly made product.
Hats sprint to mind. Hat wearers are very particular when it comes to their hats. Offer a hat wearer a low quality hat, most of the time they will accept the gift, but rarely if ever wear it. The same holds true for custom branded t-shirts. When you use custom printed tee shirts as part of a product awareness campaign, the object is to turn your wearer into an advocate for your product brand. You want your product to become the recipients next favorite shirt, ergo resulting in recurring advertising benefits for your brand. A low quality design on mediocre t-shirts is never the way to accomplish that goal. You don't have to go to max and get top of the line products, but quality should be a determining factor when purchasing any type of promotional product.
Another Very Common Mistake is Waiting until the Last Minute to Place Orders - No Matter what kind of promo item you are in the market for, If possible always try to allow 2 - 3 weeks for production and delivery of custom printed t-shirts and promotional products.
Waiting until the last minute to limits the ability to produce quality artwork or fix any issues that may pop up, such as shipping delays or product availability. Most promotional products companies including screen print shops and graphics studios offer rush services but in the end customers who wait until the last minute to place generally incur extra stress and end up paying more and ultimately getting less with limited variety.
Published by Steve Farrow on April 25th 2009
Steve is the President and CEO of Crazy Native Graphic Arts, Inc. - Douglasville, Georgia. A Full Service Graphics Company Specializing in Custom Printed T-Shirts, Signs, Logos and Graphic Design. Other Services Include Promotion Product Sourcing, Eco-Friendly Tye Dyes and Apparel, Fulfillment Programs as well as Pre Printed Apparel Lines. For More Information please visit www.CrazyNative.com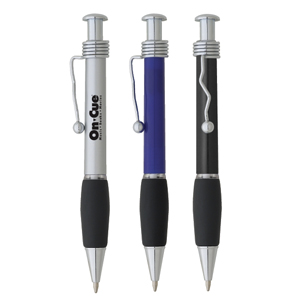 Like Cute Little Mini Pens? The Mini Astor Pens $1.00 each Printed with Your Logo or Message - Click Here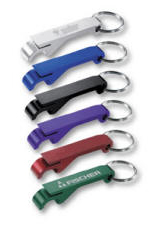 Laser Engraved Aluminum Bottle / Can Opener - Fun promotional product and useful too. $1.95 each