All too often when a new client comes to us for their Custom Printed Fundraiser T-Shirts, their main concern is almost always the cost. While cost plays an important part in fundraising, cost should never be the only factor in choosing a Custom T-Shirt Printer, there are several other items that should be considered such as Print Quality, Shirt Quality, The Ability to Meet Your Turn Around Time, and the Most Important Consideration of All, The Artwork to be Printed on the Shirt. We believe, like most things in life, you get out of it what you put into it. That said, it's really no different with Custom Printed T-Shirts. The More Effort You Put Into Your Product (t-shirt), The Better Your Return Will Be! There are 2 Main Fees when purchasing custom printed tee shirts... The First Image Illustrates a Mediocre Design on a Basic T-Shirt.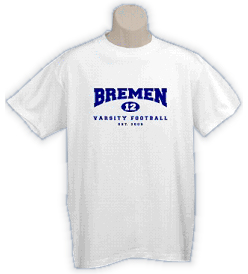 The First of which is Art Charges... the fees to design or create a logo to be printed on the shirts. This is usually a one-time fee. Once the art is created there are usually no more art fees unless the art changes or needs to be modified at a later date. On average a design like this would be $5.00 - $15.00 depending on the printing company you choose. If you put a plain design like this on a basic white t-shirt, I dare say your effort will yield little to no return. You might even have left over shirts when it's all said and done. Keep in mind if your doing Custom Printed T-Shirts for Fundraising, most people are willing to show their support and purchase a simple t-shirt as long as the price isn't ridiculous.
The Second Main Fee would be The Actual Shirt Cost...
A Custom Printed T-Shirt such as this would wholesale around $2.95 each based on an order of 12 dozen. And a suggested Resale Price would be $9.95 at best. Anything above $10.00 would actually deter sales and be counter-conductive to the "Fundraising" philosophy.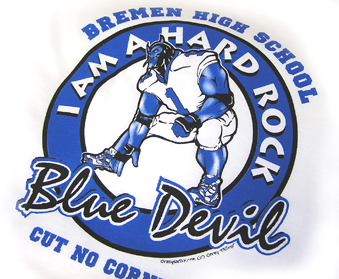 The concept should be to "Sell Out" all the shirts and not be stuck with half a box of "rags" after the event.
On the other hand, if you put a well thought out design on a good quality shirt or in this case a basic white t-shirt, the overall sales will show a greater return on the initial investment with more funds for your "Fundraiser."
A Custom T-Shirt Design such as this 'Hard Rock Blue Devil Design' by Crazy Native T-Shirt and Sign Designs would cost approximately $100-125. Admittedly, a custom designed logo or shirt design does cost more money, and extra colors in the design will also raise the cost of the Printed T-Shirt but keep in mind a better design will directly influence how well the T Shirts sell. A 2 color print on a basic white t-shirt on average would wholesale at $3.25 each based on an order of 12 dozen. If you factor into the shirt cost a measly $0.75 per shirt for better art and printing, your shirt cost could be $4.00 per shirt opposed to $2.95 for the basic no frills design.
With a suggested resale price of $14.95 your return would be 15% More Profit with a lot better sales and hopefully no left over shirts to wash the car with!